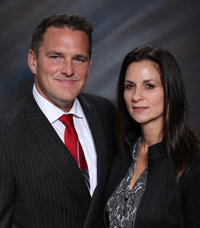 BUSINESS OWNERS, FARMERS, AND RANCHERS
Maximizing Tax Situations, Cashflow Management, Succession and Estate Planning.
PRE-RETIREES/RETIREES
Complex Social Security Claiming Strategies, 401K Options, and Retirement Plans.
EXECUTIVES
Setting up Qualified Plans, Tax Savings Accounts, 529 College Plans, and Corporate Retirement Plans.
COMPLIMENTARY EDUCATIONAL VIDEOS
SOCIAL SECURITY
"Maximizing Your Social Security Benefits" is a webinar to help Pre-Retirees make sound decisions with their claiming strategies for Social Security.
PERSONAL FINANCIAL MAPPING SYSTEM
"Unveiled - The Personal Financial Mapping System" - This video is a process overview of our proprietary financial planning system.
DEALING WITH DEATH OR DIVORCE
"Financial Changes Due to Death or Divorce?" - This video details the emotional stress of death or divorce and the steps to getting back on your financial feet.
ERIC SWEENEY
Wealth Manager
Let us help you achieve your goals with a solid financial plan.
SCHEDULE AN
APPOINTMENT
© Copyright 2018 Sweeney Wealth Management Group
The Sweeney Wealth Management Group can help you or your business take it to the next level with our advanced planning process, known as the Personal Financial Mapping System. YOUR financial GPS to YOUR LIFE.
TAKE YOUR FINANCIAL LIFE TO THE NEXT LEVEL. GET STARTED NOW.
DIVORCED/WIDOWED WOMEN
Settling Estates, Restructuring Finances, Budgeting, Retitling Assets, and QDRO's.
SUCCESSION PLANNING
"The Children want to do what Mom and Dad do for a Living." But do you have a succession plan? - Video on helping Farmers, Ranchers, and Business Owners with succession planning.
Husband and wife team, Eric and Beth Sweeney, Wealth Managers, and long time assistant Patricia Stefanou have over 45+ years of combined financial planning and wealth management experience. They specialize in helping business owners, farmers, ranchers, executives, pre-retirees, retirees, widowed and divorced women design and implement financial plans for their families and businesses to help them realize their financial goals and dreams. They understand the emotional and financial stress that comes with family businesses and planning. They develop a customized financial plan based on your goals, risk tolerance and time horizon then implement an investment strategy. They can also work in conjunction with attorneys, bankers and accountants to help their clients through estate and advanced planning issues.
They have been featured on the front page of Financial Planning Magazine, Wall Street Journal "Wealth Managers You Need To Know," On Wall Street, US News & World Report, CNBC.com, as well as Nebraska Farmer and ProAg.com.
As planning professionals, they have a proven planning system to help guide their clients throughout their financial lives.
Beth and Eric have offices in Downtown Boston, Massachusetts at 1 International Place, Suite 3210 and in Holdrege, Nebraska, 718 4th Avenue. They enjoy time with their five children. Beth is a gourmet chef, loves fitness, and traveling the world. Eric is an avid golfer, coach, and Nebraska Cornhusker fan and UNL football alumni.
BETH SWEENEY
Wealth Manager
PATRICIA STEFANOU
Senior Wealth Management Associate
718 FOURTH AVENUE
HOLDREGE, NE 68949
CALL US AT
617-377-4412 (MA)
308-995-1400 (NE)
One International Place Suite 3210 Boston, MA 02110 617-377-4422
718 4th Ave. Holdrege NE, 68949 308-995-1400
Steward Partners Global Advisory LLC and Sweeney Wealth Management Group maintain a separate professional business relationship with, and our registered professional offer securities through, Raymond James Financial Services, Inc. Member FINR/SIPC. Investment advisory services offered Steward Partners Investment Advisory LLC.
1 International Place
Suite 3210
BOSTON, MA 02110
Fix the following errors: